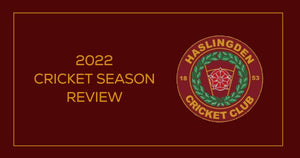 2022 Cricket Season Review
As we countdown to the start of our 2023 season this April, lets take a look back at the achievements from 2022.
2022 Season Overview
Just before the start of the 2022 Lancashire League season, the Club was advised that our signed Australian professional would not be coming to England. No satisfactory reason was ever given and we were left in the position (again) of having to find sub-professionals for the duration of the season.
 The 1st XI under the captaincy of Jordan Shannon won 2 of the first 3 games including the demolition of a strong Norden side in the first home game in Division One.
As the season progressed there were several very close (and exciting) games which could have gone either way. Wins against Middleton (twice), Greenmount (twice), Rochdale (twice), Ramsbottom, Walsden and Todmorden ensured that the team were always in the top five until a poor end to the season (losing the last four games) resulted in a 7th place finish.
I'm sure that everyone would have taken 7th place at the start of the season, but ultimately we could (and probably should) have done much better with such a talented squad of players.
There were several outstanding performances during the season, Leighton Friend scored 554 runs including a century and 2 fifties, Minhaj Bhada 543 runs including 5 fifties and Matthew Griffin scored 474 runs with 3 fifties. Sean Hunsley and Lewis McIntosh also scored fifties with Lewis scoring his in just 21 balls at Greenmount. Matthew Griffin was top of the catching charts with 15.
On the bowling front all roads pointed to Garry Sudworth who took 45 wickets and finished in 3rd place in the League wicket taking list. Sean Hunsley with 21 wickets, Minhaj Bhada with 20 wickets and Lewis McIntosh with 14 wickets also made valuable contributions to help win games.
There were 2 notable partnerships during the season with Leighton Friend and sub professional Sehan Weerasinghe putting together a remarkable 208 for the 3rd wicket at Greenmount who were put to the sword again in the return fixture with Matthew Griffin and Minhaj Bhada scoring 151 for the 1st wicket. Both of these partnerships were the highest of the season in Division One.
The 2nd XI with Tom Richards at the helm for a 5th season were looking to go one step further after a 2nd place finish in 2021. An opening day win against Walsden (by 154 runs) followed by a defeat at Norden (by 7 wickets) set a template for a season which contained a number of comprehensive wins but the occasional unexpected defeat. Another 2nd place finished was secured in a dramatic (for many reasons) win at home to Ramsbottom in the final game of the season.
The season featured a number of excellent batting performances with 17-year-old Lucas Bargh leading the way with 512 runs including 4 fifties. He was closely followed by Matthew Sudworth (478 runs (5 fifties)), Tom Richards (402 runs (4 fifties)), Joe Hayton (391 runs (4 fifties)) Oliver Cameron (301 runs) and Tom Horrocks (266 runs).
Bowling honours went to Joe Hayton with 41 wickets who finished in 3rd place in the League wicket taking list. Joe was ably supported by Tom Horrocks (29 wickets) and Tom Richards (23 wickets).
It would be remiss of me not to mention the contribution of "new boy" Ben Young, who showed many glimpses of talent in an injury hit season. His 5 for 21 against Colne and his all-round enthusiasm for the game made a big impact on the players and we look forward to meeting his interpreter next season.
I would also like to mention the impact the younger players have made this season. Promotion from the 3rd XI to 2nd XI cricket is always difficult but George Wilkinson in particular was unphased and his 82 not out at Rochdale was one of the highlights of the season. Coming in with the score on 26 for 3 he batted through the rest of the innings to see us finish on 169 for 9, a fantastic effort for a 14-year-old!
As I said last season Captain Tom and his players deserved the 2nd place finish they achieved. The job of 2nd XI Captain is not an easy one as late 1st XI call ups, injuries etc can disrupt the best laid plans. I'm sure Tom will be striving to go one better next season as his young squad gain experience and competition for places increases (see 3rd XI report below).
The Cup competitions:
The 1st XI defeated Church in the 1st round of the Worsley Cup courtesy of a fine amateur batting display with Lewis McIntosh and Sean Hunsley launching a total of 8 sixes into the adjacent river in a 90-run partnership for the 5th wicket. Sadly the team were defeated by Darwen in the 2nd round.
The 2nd XI also defeated Church in the Junior Knockout Trophy after an excellent all-round performance. Ramsbottom were duly hammered in the 2nd round with Matthew Sudworth (60) and Muneeb Ahmed (59) laying the foundation for a total of 233. Ben Young took 4 wickets as Ramsbottom managed just 148. A close fought encounter with a very experienced Lowerhouse team proved to be a bridge too far for the team this season. We'll be back next time I'm sure.
 Jeff Stanton again led the 3rd XI and the season saw five more Junior players make their debuts in Senior cricket. The overall objective for the team was to win promotion to the First Division of the newly formed Third XI Divisional League. The team took some time to find form with the first 7 games yielding just 4 wins and promotion looking a long way away. After a poor performance and defeat at Rishton on 4th June, Jeff and his young team obviously decided enough was enough and proceeded to win the final 9 games of the season.
It was my privilege to present the Third XI Division Two Winners Trophy to Jeff and medals to the players after a 6-wicket win against Great Harwood 3rds having been witness to the mauling of Rishton "3rds" the week before. 
Lucas Bargh with 481 runs (including a century) topped the batting charts with 413 runs coming from the bat of George Wilkinson (2 fifties). Harry Lees contributed 211 runs (1 fifty) in his individual style, Harry also kept wicket with 19 catches and 3 stumpings.
Lucas Bargh was leading wicket taker with 31 wickets (topping the overall Third XI League charts), closely followed by Carter Travers with 29. George Wilkinson took 15 wickets, Joe Blomley 14 and Luke Mercer 12.
There were some excellent all-round individual performances, not least Lucas Bargh with 100 and 6 for 6 at East Lancs. Joe Blomley scored 67 and took 5 for 21 against a dangerous Middleton team but pride of place must go to Lucas Bargh with 481 runs, 31 wickets and 11 catches.
 History was made at Bent Gate on 14th May 2022 when the 4th XI, led by Leon Brennan, ably assisted by Matthew Hardwick took to the field to play their inaugural fixture against Roe Green. There was a near capacity crowd of excited parents, grand-parents and supporters who cheered a very young team to a 60 run win. Luke Blackledge top scored with 39 and James Tonge and Callum Chambers picked up 3 wickets each to secure the victory. Over the season the team played 7 fixtures winning 5, but the results are unimportant, the object of the games is to give our much younger players experience of 40 over cricket whilst sharing a dressing room with experienced players keen to pass on their knowledge.
Over the season Fred Hardwick and Luke Blackledge showed promise with the bat with Will Lord, Fred Hardwick, Callum Chambers and Robbie Barton taking the bulk of the wickets.
Overall, 17 Junior players and 6 Senior players appeared for the 4th XI in 2022, which will make selection for the 3rd XI in 2023 even more difficult. A very nice problem to have!
 Credit: Steve Hunsley - Cricket Chairman, Haslingden Cricket Club.
1st Team Captaincy
Huge thanks go to Jordan Shannon for his effort and dedication during his 3 seasons as Captain. The shortened Covid season in 2020 and the extra work in finding suitable substitute professionals during 2021 and 2022 were more than enough to deal with, but he also managed to guide the 1st XI to the Division 2 Championship in 2021 and finish a creditable 7th in Division 1 this season.
Following his decision to step down as 1st team captain, Jordan will continue his cricket career at Haslingden after a job well done and is joining the ranks of cricket agents working as a freelance. We wish Jordan all the very best in this new role.
Taking the reigns of the 1st XI for the 2023 season will be Matthew Griffin who needs no introduction to our club supporters, he will be ably assisted by Leighton Friend, who will also step up to captain our T20 squad replacing Matthew. Thank you to both Matthew and Leighton and we look forward to the season ahead. Both Matthew and Leighton will feature in our March Newsletter.
Jeff went Viral
A special mention has to be made for our very own Jeff Stanton, who found himself not only Captaining the 3rd XI, wicket keeping for the 2nd XI but also debuting for our 1st XI against Clitheroe away last year at the age of 52. This saw his picture below go viral across cricketing groups on social media platforms, giving hope to many cricket players that hard dedication does pay off eventually. The club could not have picked a better day for their away day trip to witness Jeff take to the pitch.
---