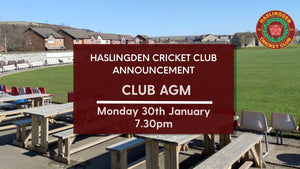 Haslingden Cricket Club AGM - Monday 30th January 2023 at 7.30pm
The Haslingden Cricket Club Annual General Meeting will take place on Monday 30th January 2023 at 7.30pm in the pavilion.
All members are invited to attend and we look forward to welcoming as many of you as possible to:
Review the club's accounts for the financial year 1/10/2021 to 30/9/2022
Update you on developments and proposals both on and off the field before the 2023 season commences.
If you have any queries or questions prior to the meeting then please contact our Club Secretary Jayne Hunsley by email: jayne@hunsleylegal.com
The Club's AGM is your opportunity to have your say and input into the running of your club. We would encourage you to please make every effort to attend as, if you are not in attendance, then you will not be able to vote on any item raised.
The Accounts and Annual Report will be circulated by email to members shortly.
---