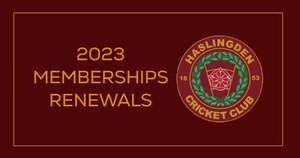 2023 Membership Renewals
Haslingden Cricket Club membership subscriptions are due on 1st January per calendar year, prompt payment of renewals is greatly appreciated as it helps the club with preparations for the forthcoming cricket season.
*To continue to receive your discount at the clubhouse bar with your membership loyalty card, please
renew
before 31st March 2023. From 1st April any cards not renewed will be expired and discount will not be applied at the bar until your membership is renewed. The bar staff will be asking for proof of membership so please can all members be reminded to carry membership cards on them when visiting the clubhouse.
Thank you to all our members who have renewed for 2023, if you haven't already received your membership booklet including this year's cricket fixtures, these can now be collected from the bar. 
Below is a reminder of our membership costs that remain unchanged for 5+ years.
Playing Membership
Senior Player - £120.00
Senior Player & Partner - £140.00
Full Time Student Player - £75.00
Renew your membership
here
Social Membership
Club Member - £40.00
Couples Club Member - £60.00
Pensioner Member - £20.00
Junior Member (17 & under) - £20.00
Full Time Student Member - £20.00
Family Club Member (2 adults/2 children) - £80.00
Patron - £85.00
Vice President - £45.00
Renew your membership
here
---